Our Products
Browse below to see our extensive product listing of fine fermented foods. If you are interested in carrying the line of Pickled Planet products either as a retailer or a distributor, or have interest for food service uses, please feel free to contact us for info, sell sheets etc.
Sauerkraut the old school way. We shred fresh cabbage with our high grade salt and let the little guys do the rest. Great with so many things we lost track…let us know your strangest or favorite use for the all American original. The quarterback of kraut!
One of our best selling and most versatile sauerkrauts. We have combined fresh red cabbage with beets, carrots, and a hint of caraway. This is great with any cheese and cracker plate, the fresh flavor and caraway clear the palate for the next course of cheese. Fantastic with red meat, lamb and a phenom in sandwiches. Makes the rubiest of reubens!
Our hybrid take on the tradition with carrots, daikon radish, ginger, garlic, and some heat. Fermented as long as Sauerkraut is and using regular cabbage, this is a marvelous marriage of the two traditions "Put the zing in your zen!"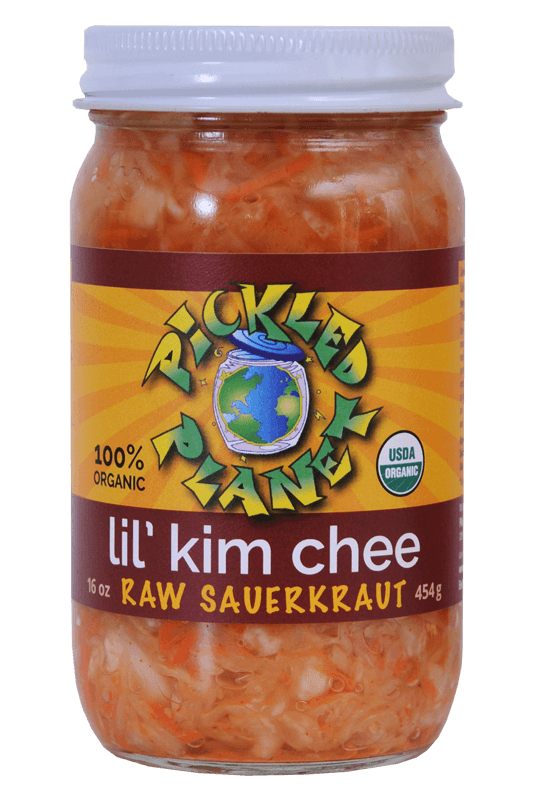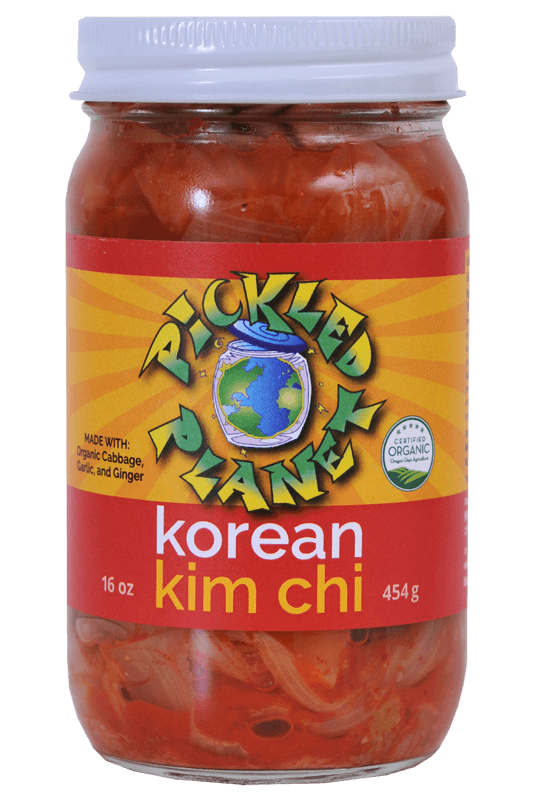 Napa cabbage, green onion, garlic, ginger, Himalayan salt, Spicy Peppers.
This is the grocery store classic, made organically of course. Simple but delicious.
          *DISCONTINUED
Fresh cabbage with plenty of garlic, and the remaining host of pickle spices like dill, pepper corn, mustard seed, and coriander. Try this with your favorite sausage or chicken dish, potatoes, fish, or a little havarti cheese. Don't be afraid of the dill, we experimented for years to get just the right amount for it to be a nuance instead of a nuisance.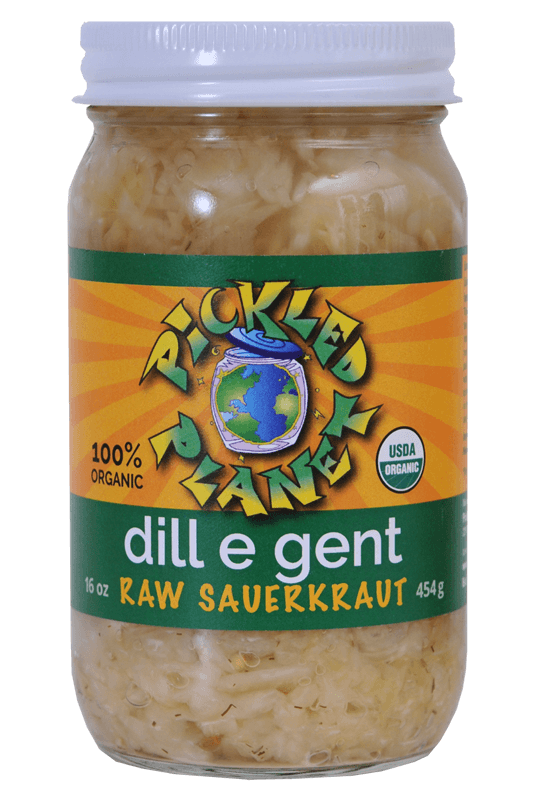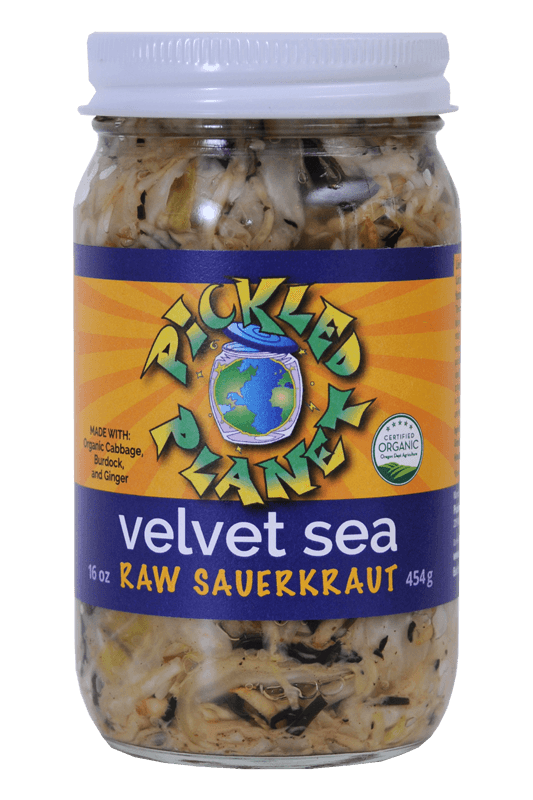 Our nod to all things Japanese and oh so delicious, mmm… We combine fresh cabbage with burdock (known as gobo in the land of the red sun), fresh diced ginger, and two kinds of Japanese sea weed: hijiki and arame. The slaw that results is great with fish, in salads, a side dish with most meals, a solo snack, or of course in a sandwich. Don't be surprised if you're reaching for the Sea more than twice a week and be glad. You'll be healthy and wise with a belly full of naturally beneficial pro-biotics. Relax and Enjoy.
One of our FAVORITE flavors – this herbal kraut is hand-crafted to boost your immune system and fight acute illness. While your Fermented Friends protect your gut and support your liver, this formula offers the added benefit of herbs to help with colds, flu, and general upper respiratory distress. Formulated by clinical herbalist, Jennifer McCoy of Aralia Alchemy, I-Boost is packed to the brim with cabbage, carrots, burdock horseradish, garlic, kale, nettle leaf, ginger, lemon, Himalayan sea salt, Thyme, oregano, and Cayenne pepper!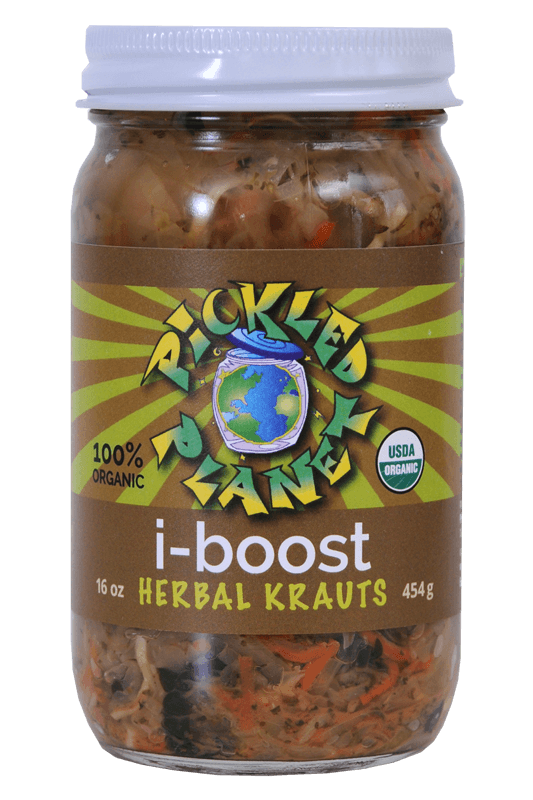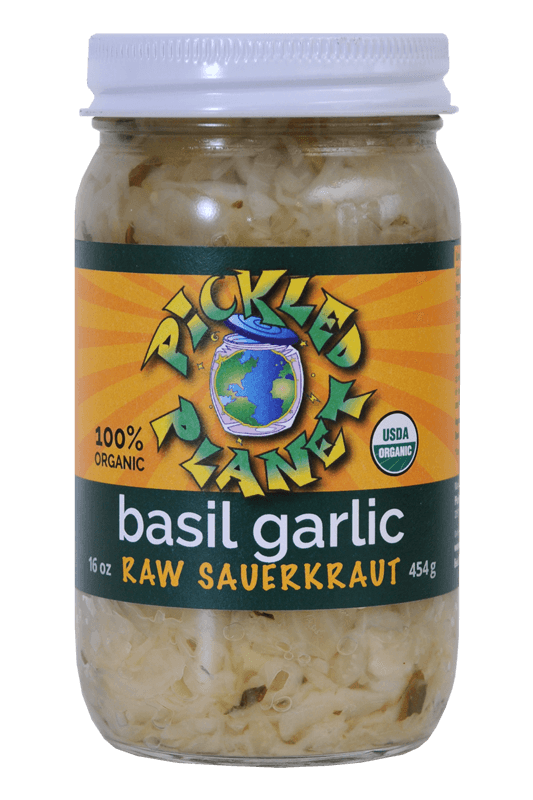 BRAND NEW FLAVOR.
This one just hit the market in 2016 and is already one of our top sellers. Just what it says it is – cabbage, garlic, basil, and Himalayan sea salt – fermented to perfection to give you that probiotic kick your gut craves. Simple yet delicious. Try it with your next Italian meal or right on top of a pizza slice! Warning: this one is highly addictive 😉
Named after the 5,000 year old Veda texts which are the basis for much of India's traditional medicine and religion. Whole curry spices are mixed with fresh cabbage in perfect balance for a full flavor without any hot peppers, garlic, or onion. This delivers a tri-dosha (Three doshas in vedic medicine, means anyone can eat it) kraut that is the perfect condiment with an Indian meal or if you just want a little indian flavor with a western meal. Delicious served in a rice bowl or any soup for a sour curry soup. Try it with a plain squash soup and you'll taste what we mean. Namaste!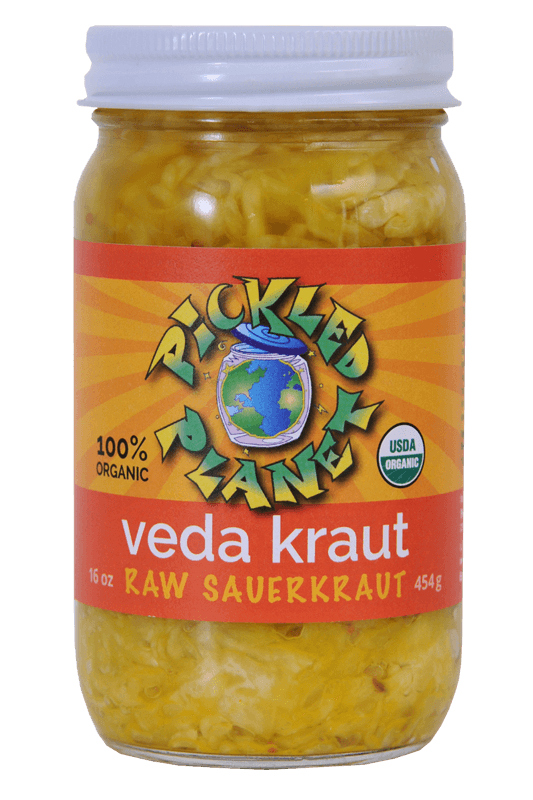 Delicious blend of red cabbage, carrots, and burdock root, flavored with cumin, coriander seed and garlic. It has a beautiful pink color that lights up any plate and the cumin and coriander have a mild warming effect on the body.
Crunchy and garlic-ey, great snack or side dish for lunch and dinner. Get your pro-biotics, ruffage, and protein all at once!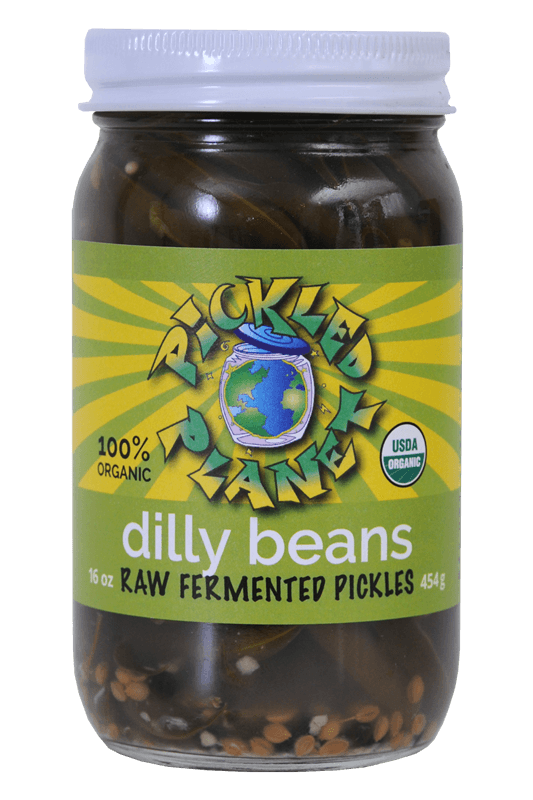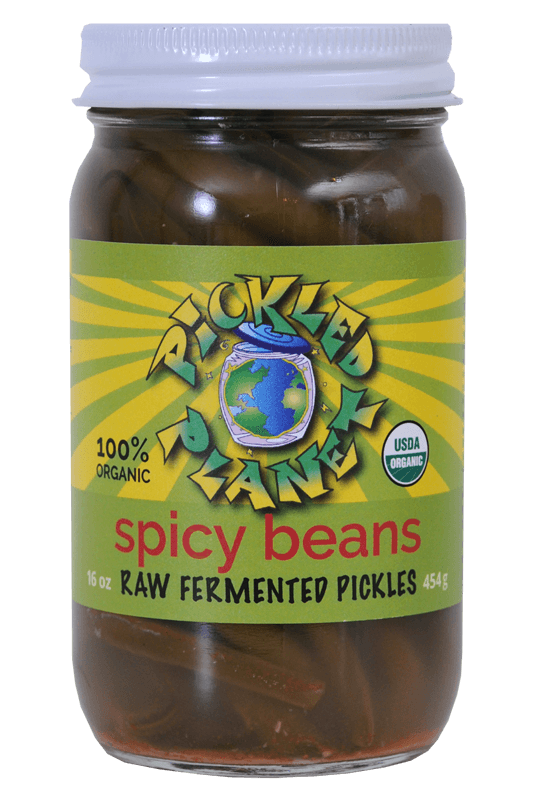 Just like our Dilly Beans, but with a peppery kick. Marinated in pepper flakes and cayenne – great for your immune system – and delicious! For those of you who are 21+, try a couple in your next Bloody Mary!
Our taqueria pickle is the standard taco stand pickle, only ours are fermented and full of all those life giving enzymes and probiotics. Spice up your plate with some love from south of the border!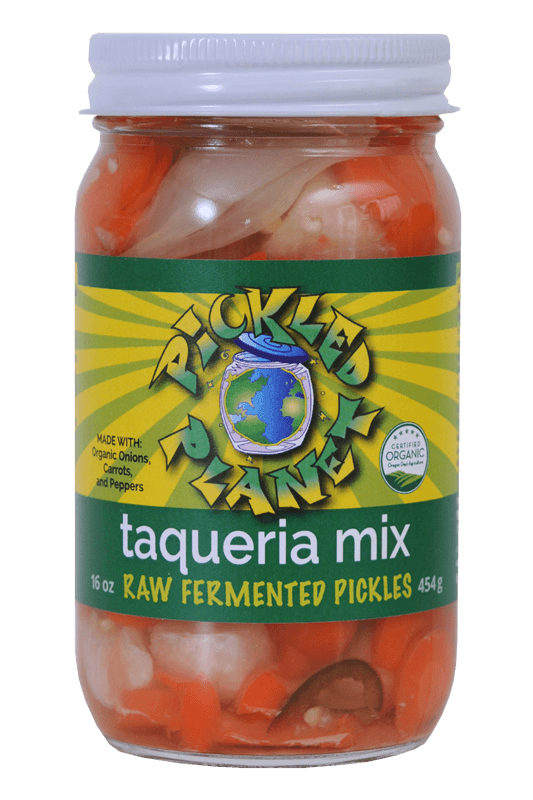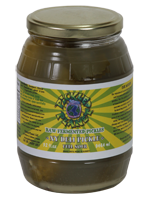 The deli classic! Made using our high grade Himalayan salt.
*DISCONTINED
Herbal Sauerkraut (Seasonal)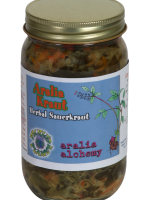 Aralia Kraut
Aralia is our local ginseng family plant whose leaves are nutrient-rich, high in protein, & help with nutrient assimilation. These majestic plants grace the under story along creeks and rivers, with gentle and elegant leaves and hauntingly beautiful flowers. The unique flavor of this plant makes our kraut a party in your mouth.
Discontinued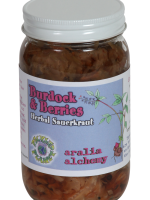 Burdock & Berries
Every autumn the fuits ripen and the frost comes, concentrating the summers vital energies into the berries and roots. This cleansing tonic for the liver and kidney prepares you for the winter, loaded with flavanoids, vitamin C, and antiviral constituents.
Discontinued
16 fl. oz.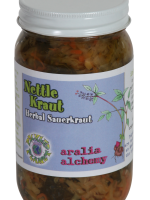 Nettle Kraut
Milarepa was able to survive his long retreat by eating nothing but nettles. Wether you flog each other, drink them in tea or eat them, these amazing botanical helpers are an essential part of human existence. We bring this nutrient dense plant to you, enhanced by a bacterial infusion of love.

Discontinued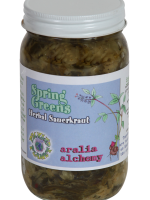 Spring Greens
Every spring the sun comes and the earth awakens with an ephemeral expression of vital spring growth. These greens are rich in nutrients that aid in purifying and toning our body systems. We've fermented and preserved these wild weeds while at their peak so you can enjoy them all year.
Discontinued
---
Please contact us to arrange a special shipment, or if you'd like to sell Pickled Planet Sauerkraut in your area.
---
---
Eat Life, Enjoy Life!