Where to Buy Our Ferments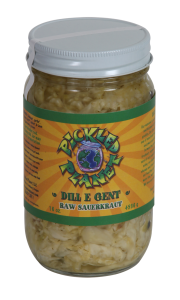 Our fermented foods are packed with live probiotic goodness and available to buy through many retail outlets on the west coast. You can always email us and let us know where you'd like to see us, but asking your local grocery store if they can get it is the best way. You are their customer.
There are also two other ways to get our fermented food products online. One is called Wild Mountain Paleo Market, an online store that ships anywhere in the country in three days. Another way is Azure Standard, a small distributor that serves the western half of the country, selling to small groups and individuals.
If you are near us in Ashland, or visiting, our retail store is open sporadically. Let us know if you're passing through. We also have a "heavy users club" where people buy a membership to get discount prices and return their jars for re-use.
Where to Buy Pickled Planet Fermented Foods Near Me
Ashland, OR

Shop 'n Kart
Ashland Co-Op
Market of Choice

Bend, OR

Natural Grocers
Whole Foods

Cave Junction, OR

Taylor's Country Store
Cabin Chemistry
Diggin Livin' Natural Foods Store

Coos Bay, OR
Corvallis, OR

Market of Choice
Natural Grocers
First Alternative Co-op

North Store (bulk dept.)
South Store (bulk dept.)

Eugene, OR

Market of Choice

Willamette
Wilakenzie
Delta Waters

Sundance Natural Foods
Capella's Market
New Frontiers
Red Barn
Natural Grocers

Grants Pass, OR

Goose Berries
Farmers Market Store

Klamath Falls, OR
Lincoln City, OR
Macville, OR
Medford, OR

Food 4 Less
Natural Grocers
Medford Co-op

Portland, OR

People's Co-op
Market of Choice

West Linn
Terwilliger Blvd.

Whole Foods
New Seasons

Ruch, OR
Salem, OR

Life Source Natural Foods
Natural Grocers
Roths Fresh Market

Talent, OR
Williams, OR

Ruch, OR
Salem, OR

Life Source Natural Foods
Natural Grocers
Roths Fresh Market

Talent, OR
Williams, OR
Halewiia, Oahu, HI
Arcata, CA

North Coast Coop
Wildberries

Bay Area

Whole Foods
Community Market
Berkeley Bowl

Chico, CA

Chico Natural Foods
S & S Produce

Eureka, CA

Eureka Natural Foods
North Coast Coop

Grass Valley/Nevada City, CA

Garberville, CA
Mt. Shasta, CA

Berryvale Grocery
Mt. Song Natural Foods

Willits, CA
Southern California

Santa Monica Co-op
Grassroots Natural Market and Kitchen, Pasadena
Rawvolution, Santa Monica
Full o' Life, Burbank
Isla Vista Co-op, Goleta
Lassen's
Mother's Markets:
Rainbow Acres, Culver City
Rainbow Bridge, Ojai
Pacific Health Foods, Carpinteria
Lazy Acres- Santa Barb
Vitamin City
Jimbos – San Diego
Sprouts
Terra Roots – Temecula

Bellingham, WA
Tacoma, WA

Tacoma Food Coop
Marlenes
Haggens ?

Seattle, WA

Whole Foods
Quality Food Center
Thriftways

West Seattle
Vashon Island
Stadium

 
 
Please contact us to arrange a special shipment, or if you'd like to sell Pickled Planet Fermented Foods in your area.
Eat Life, Enjoy Life!