The Pickled Planet Story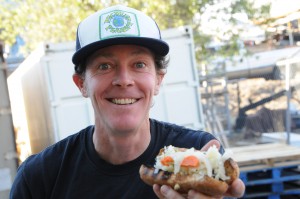 Pickled Planet was started in 2002 by Courtlandt Jennings, in the small hamlet of Ashland, Oregon. With a desire to make the best fermented veggies available, back then some of the only, the offer of a free kitchen to start in, the savings in his bank account, and plenty of local produce, Courtlandt started making tasty ferments for sale and had them statewide by 2004.
It wasn't a hard leap for someone who had been fermenting things since high school.  Back then his fascination started with bread, then beer, kombucha, sprout water, rejuvelac, then came pickles krauts and the list grows. He had a health problem at age NINE and had to to quit eating sugar and white flour shortly after, which began his time shopping health foods stores. This exposure to alternative eating, self healing, and various subcultures continued feeding his curiosity and his passion. His training and practice with massage just after high school was concurrent to his fermentation interest and lifestyle politics, and so he continued along the journey of alternative living, political activism, spiritual practice and making his way. He has been a Breema instructor for 15 years and has run Pickled Planet since 2002. Find him at the skate park, or on the mountain, jumping into bodies of water, hiking deer trails, or relaxing in the sun, for sure having fun!
Our Mission
Our mission is to produce and sell lacto-fermented foods with a brand that inspires humanity and raises awareness of their importance in out diet.
Our Vision
Our vision is to help return balance to our living systems through the process of our business. We do so by providing a living wage to employees; buying produce direct from farmers, providing lacto-ferments and a path towards health for our customers, sharing important information, diverting waste streams out of landfills, using 100% organic ingredients, Using post consumer paper in our office and labels, offering bulk options and re-claiming jars; and most of all by building our business model around what helps the world, even if it costs more.
Why Are We Here?
Pickled Planet is a response to our modern world and its "diet gone mad" on hyper processed and pasteurized food and hyper imbalanced wealth/power distribution. We want to help in the gathering of experience and appropriate perceptions for reality as it really is... We want to help in the pursuit of a healthy balance between our species and all our relations, our human ecosystems, natural ecosystems, gut ecosystems, and the cyclical capture of solar abundance and the technological maintenance of lifestyles. To have our kraut and eat it too!
The way we see it, if microscopic lactic acid bacteria can bridge the gap from barrel to our bodies, then we can bridge the gap between the bottom line and the planetary brine.
The Planet is in a Pickle people, what are you doing about it?
Eat Life, Enjoy Life!